Orphek New Slim Line has reviews already!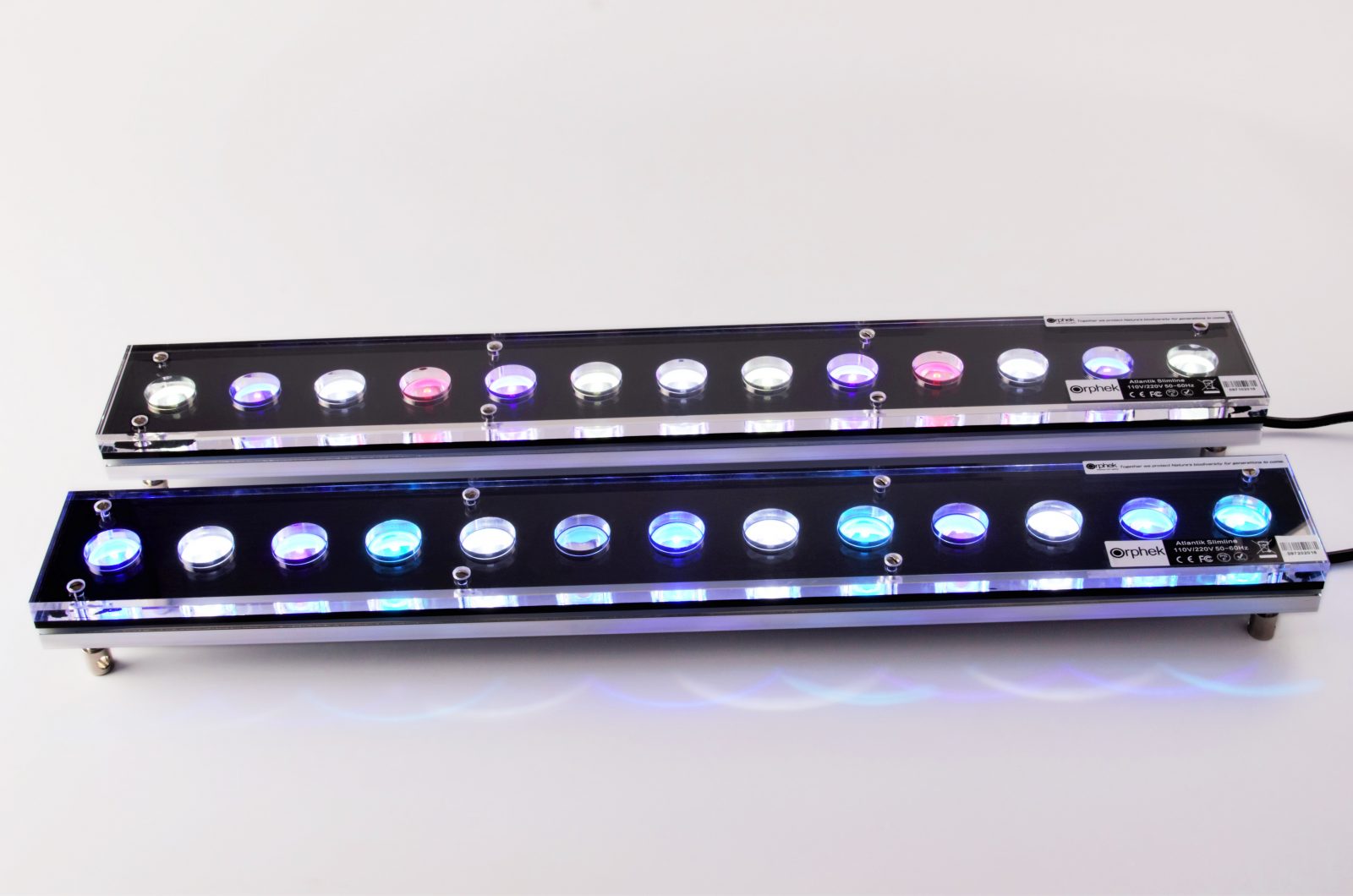 You can already read reviews about our newest launch!
Reefbuilders has already made its first evaluation of our Slim Line solutions and has only great things to say about it!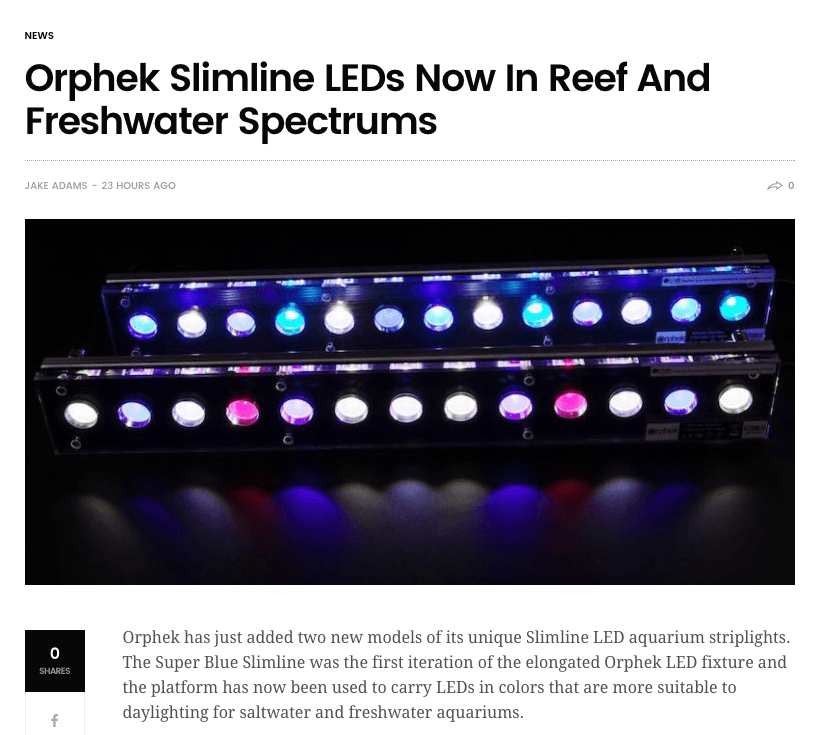 "Orphek has just added two new models of its unique Slimline LED aquarium striplights. The Super Blue Slimline was the first interation of the elongated Orphek LED fixture and the platform has now been used to carry LEDs in colors that are more suitable to daylighting for saltwater and freshwater aquariums.
While Orphek has had to go head-to-head with many great LED fixtures in a similar form factor, the Slimline LED is one of the very few high powered striplights available for aquariums. Where most striplights (read nearly all) use low and medium output LEDs in huge numbers to create ample light levels, the Orphek uses 13 dual-chip LEDs running at three watts each and with individual convex lenses to deliver punchy light levels which unlensed LED striplights simply can't achieve…"
Read full article by clicking on the link:
https://reefbuilders.com/2017/06/20/orphek-slimline-leds-now-in-reef-and-freshwater-spectrums/
About Reefbuilders: Established in 2006 Reef Builders covers the aquatics industry for keeping saltwater tanks.
We like to thank Jake Adams for this first evaluation of our new Slim Line LED products!
More reviews of our Slim Line:
EN ESPAÑOL
Gracias http://www.aguasalada.es!
If you wish to read about the new Slim Line in Italian we were reviewed at:
IN ITALIANO
Grazie Danilo Ronchi from Danireef.com!
EN FRANÇAIS
Merci Sébastien Ruaux from Récifal News!
---

ABOUT OUR NEWEST SLIM LINE LED LIGHTING FOR REEF & PLANTED TANKS
FLEXIBILITY, LONGEVITY, DURABILITY & HIGH PERFORMANCE
Orphek has already settled the standard in the market for its advanced comprehension of color spectrums and its influence on coral physiology.
Today we are offering you LED lighting products combining efficient technology, longevity, design and modular flexibility.
YES! We believe it is possible to offer solutions that have an outstanding performance, high quality components, exquisite conceptual design that will have more than one application and will answers to all aquarists' needs.
Our 2 new Slim Line lights with spectrums for both Reef and Planted aquariums differ from all slims lights offered in the market today because they are built with the same design and quality of the Atlantik series, made of full body acrylic, a rugged aluminum heat sink and thick polished acrylic lens cover.
Our light is not only solid and durable, but also beautiful to display!
WHAT ARE THE APPLICATIONS?
Smaller tanks and upgrades:
If you have a smaller tank it does not mean that you don't deserve a beautiful light over it!
Our 24? Slim Lines Lights can cover every 101cm/40? L x 30cm/11.8? W x up to 60cm/24? H of your SPS/LPS reef tank or planted frashwater aquarium – that said, if you start with a smaller tank you can always add more lights as you continue to upgrade your tank. Or you can simply add 01 extra unit for every 1m/40? L, or 30cm/11.8? W.
Integration:
They can integrate tanks where you still have uncovered areas, including mixing them with other Orphek lights, such as the Super Blue Slim Line, Atlantik series and even Orphek pendants!
You can replace

older technologies such as T5 /T8 systems or any other LED systems with not enough light.

They are perfect for aquariums placed inside a canopies or closed tanks.
Flexibility:
Our Slim Line Lights are built to accommodate:
Reef tanks

Frag Tanks
Jellyfish aquariums

Freshwater planted aquariums
WHAT ELSE YOU ARE GETING
Five watt dual chip LEDs.

Large convex lenses that are able to disperse light over a wide area and provide excellent penetration.

Quality Mean Well SLG-45-48 LED driver with a waterproof quick disconnect cable.
If you are interested in our Slim Line 24″ and you are also wishing to:
Improve the quality of life of your corals and marine species
Install a neat and easy to clean fixture
Own not only a conceptual design LED light solution, but a true color & growth technology
We will be very happy to find the best Orphek LED Lights for your tank.
Email us to contact@orphek.com and we will help get you started! You can also reach us by filling our form