DIF30c Refugium LED Pendant
ORPHEK Announces Their New DIF30c Refugium LED Pendant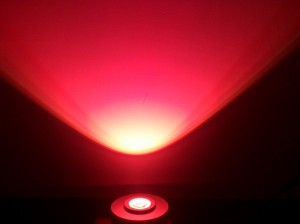 The use of refugiums by marine aquarists has become increasingly popular over the last few years as they offer a refuge for growing macro algae as well as an area away from the display tank to keep invertebrates that otherwise would not co-exist with certain tank mates in the display tank, notably the beautiful Mantis Shrimp. The three most popular macro algae that serve the purpose of absorbing dissolved nutrients are species of Gracillaria, Caulerpa, and Chaetomorpha. Mangroves are an interesting addition but not quite as efficient at removing nutrients as macro algae. Macro algae are also good bio-indicators, showing signs of degrading water quality, often before your livestock.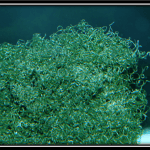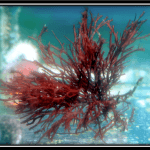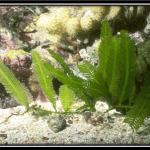 Photos courtesy of Bob Fenner
Marine plants grown under the right conditions also offer a replenishing food source for tank inhabitants requiring macro algae in their diet. The requirement to grow macro algae is sunlight or light of the correct spectrum and food source. This food source is in the form of nitrogen and phosphates which are produced by fish waste and uneaten foods. Most green macro algae of the types beneficial to our systems are found in estuaries, shallow lagoons and off shore waters where the light spectrum is higher in the orange, red, yellow, and infra-red wavelengths. These spectrums are not found in conventional refugium lighting now being advertised and sold as refugium lights.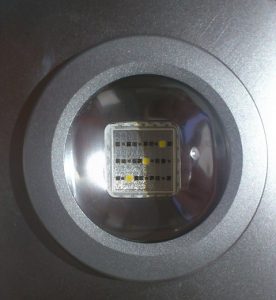 Reef aquarists strive to keep nitrate and phosphate levels low in their systems as many sensitive fish and invertebrates do not tolerate high levels of these elements, although trace amounts of these elements are beneficial to some corals and clams.
With the present boon of companies producing LED fixtures for marine aquariums, no company has produced a LED fixture specifically designed for growing macro algae until now. Orphek has stepped forward and used their DIF Pendant LED technology to develop a multi chip LED array to cover the spectrum most beneficial for growing marine macro algae. This pendant uses the same housing as our DIF30-XP which includes the highly efficient Mean Well LED Driver. The DIF30c incorporates four different multi chips with the following percentages.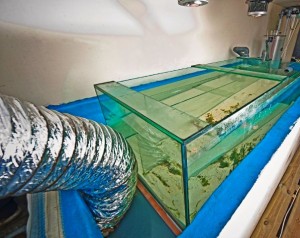 30% 660nm – orange/red
40% 730nm – red
20% 850nm – infra-red
10% 3,000K – yellow
One DIF30c Pendant will efficiently cover an area of24"x24"and can easily be mounted inside a cabinet by use of an eye bolt. As in our present DIF Pendant series, the DIF30c is self contained and uses no cooling fan. The energy used by the DIF30c is lower than some of the refugium lights produced by other companies, and using spectrums that are not beneficial for healthy and fast macro algae growth.
What you will see in using our Refugium DIF30c Pendant is a lush, healthy, and vibrant growth of your macro algae. Macro algae that are nourished by lighting in the correct spectrum to grow faster and absorb more nutrients which thereby reduce dissolved nutrient levels much more efficiently.