Orphek Atlantik Compact B WiFi Planted Tank fixture will give your freshwater planted tank the light spectrum that it needs to thrive.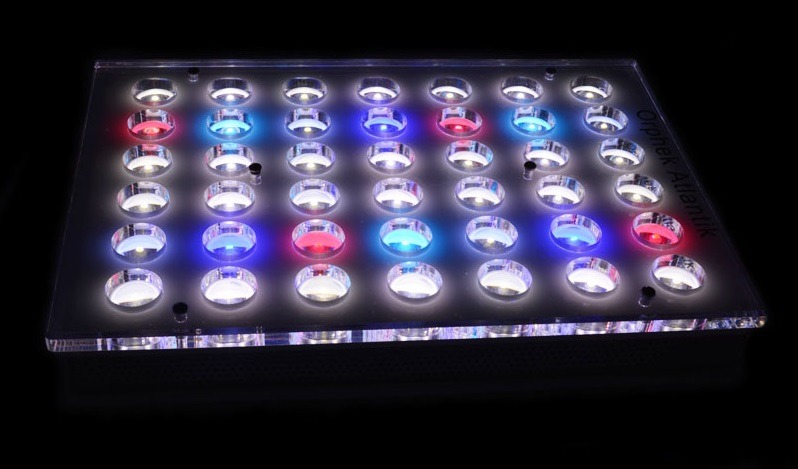 Features:
4 Channel group of LED control
42 customized dual diode high efficiency power LEDs
Wireless technologies / Wi-Fi/ WLAN/ IEEE802.11b/g/i / Wi-Fi/ WLAN/WPA/WPA2/PSK
Android technology
Built-in battery backup memory
High efficiency Mean Well driver
Eight pre-installed programs
Full dimming capability in all channels
Large storage RAM with capacity for additional programs
Ability to program multiple Atlantiks simultaneously
Highest PAR/PUR
Ideal Spectrum for plant growth, color & health
Eight Different types of LEDs
Optimal plant acclimation management.
Light Control & Stability for your tank.
High electrical efficiency.
Energy saving results with reduced electric cost.
Uniform light distribution throughout the entire area of the tank.
Long operating life span.
Effective heat management.
A lighting solution that is easy to install.
The Orphek Atlantik Compact B Freshwater Planted Aquarium LED Lighting is a member of the Atlantik series of LED Pendants. The introduction of the Atlantik Compact B Wireless WLAN / Wi-Fi control brings an upgrade in Orphek's Atlantik operational system allowing you to control the light by an Android tablet or Android Smartphone in a very simple manner.
Our design goal was to aid freshwater hobbyists in growing beautiful aquatic plants without relying on the sun or low PAR florescent tubes with spectrums not suitable for good plant growth.
The pendant also serves to bring out the vibrant colors found in many species of freshwater fish.
The Spectrum
Orphek understands that selecting the best fixture for your system is an important part of the overall success that you will achieve. We have refused to compromise with research, development and production. This expectation of high quality is evident in the spectrum that your Orphek Atlantik series light delivers.
Each unit consist of 42 LEDs and each LED has two separate Core to provide a total of 84 chip. The Atlantik Compact is designed, produced and implemented with a specific goal in mind; to produce the best possible light for aquatic plants to grow and thrive and produce vibrant color.
Our spectral advancements are second to none in the industry as we refuse to use off the shelf LEDs, instead choosing to utilize custom made LED diodes that fit our exact specifications. This allows us to tailor our individual LED spectrum as well as the total fixture spectrum, unlike the competition that simply repackaged existing LED technologies, often adding in colors that can do more harm than good.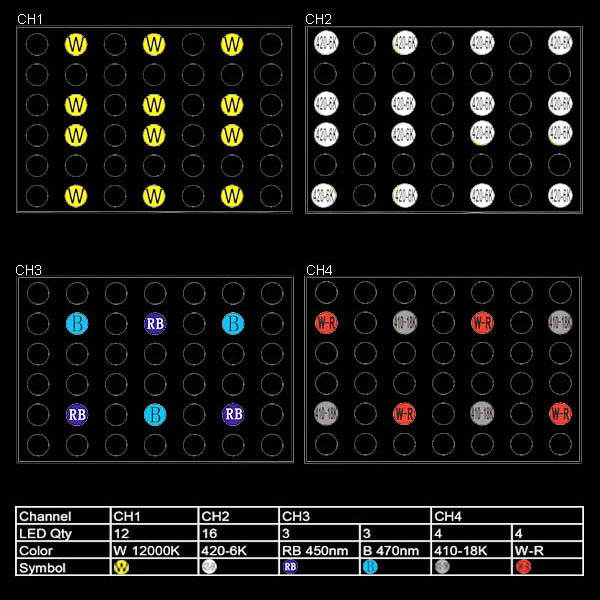 The LEDs were selected to duplicate the lighting spectrum beneficial for growing aquarium plants rapidly and producing thicker foliage and vibrant color. Absorbing wavelengths in the blue and red spectrum are essential for growing taller plants.
Through Orphek's experiments and recommendations of aquatic plant experts throughout the world, we have added 20pcs of our specially designed white/UV LEDs which play an important role in the plants ability to produce chlorophyll a which is vital to plant growth.
Our diffused lenses and high PAR/Lux levels will allow you to hang the pendant at a higher distance from your plants which will give you more light coverage per square inch while also producing high PAR which is essential for many of the carpet grasses aquarists use for the bottom of the tank.
Our specially designed housing contains two cooling fans and a finned heat sink rapidly dissipate heat from the LEDs and eliminate excessive heat to the unit. The cooling fans are temperature controlled and only operate on demand. Virtually no heat is transmitted into the tank which eliminates the need for a chiller or other cooling device.
Download Page : Orphek Atlantik APP and Manual
SPECIFICATIONS
Color/Materials
Light Unit Body Material: White acrylic housing and silver stainless steel grill
Weight
Light Unit Weight: 7lbs (3.48kg)
Waterproof Driver Weight: 2 lbs (1.02kg)
Total Weight: 9 lbs (4.5kg)
Cords
Power extension cord with waterproof connector from Light Unit to Power Box: total 118? (3m)
Power Cord: 70.86? (1.8 m)
Hanging Kit
2 steel cables: 7.87" (0.2m)
1 steel cable: 47.24" (1.2 m)
Electrical
Mean Well Fanless power supply Model: CLG-150-spec
Input voltage: 90~264 VAC (Selectable by switch)
Frequency: 50~60 Hz
Power consumption: 107 ~ 110 watt
Power consumption For B vertion : ~120 watt
Electrical outlet: Region appropriate
Dimensions
Length:" 13.58" (345mm)
Width: 9.37" (238mm)
Height: 2.87" (73mm)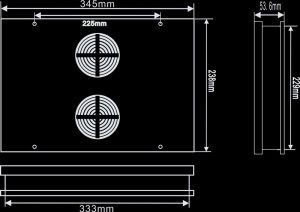 CONTACT US NOW!
Orphek sells & ships its products worldwide Door To Door Express Delivery.
Ordering: If you wish to place an order, or need assistance in selecting an LED system for your application, please contact us via form and a sales professional serving your area will contact you as soon as possible.
To contact an Orphek Worldwide Sales Advisor: |Click Contact Us
ORPHEK Aquarium LED lighting |With proven results, reliability and design, the Atlantik series has started a revolution that will change your planted tank forever.